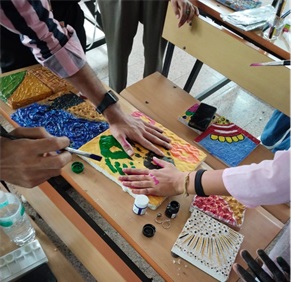 Design creates culture – School of design
Design creates culture, culture shapes values, and values determine the future. Design is a form of art of expression or application of human creativity, skills and imagination. Design refers to a set of creative activities to satisfy human and social needs and goals through synthesis. We improve the quality of life through creation of something new and better.
School of Design organizes many activities for students to understand the form of design aesthetics such as Textured artwork, Indian Artwork, form of Expression, Hand painted, etc. Some are:
Textured Artwork
Rough, coarse, smooth or silky… Texture is an integral part of any design In fact, Its,s a simple way to turn an interior into 'missing something' to 'must see'. Texture allow us to turn away from homogenous surfaces, creating walls and floors full of nuance, and stimulate our senses to achieve greater visual impact. Materials are often used are paint, pencils, charcoal, clay, plaster of paris, brush, pottery wheel, palette knife and others. These artwork can be great way to add visual interest and create a unique, cohesive look in your home.  Each miniature tiles stands by itself and together as an installation, each in a personality of its own. Art tiles are miniature wall art in ceramic that beautify smaller cosy spaces. When one does not want overpowering artwork or sculpture, art tiles bring just the right amount of a minimal modern aesthic to the space.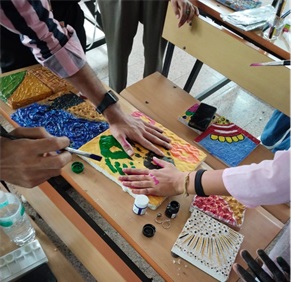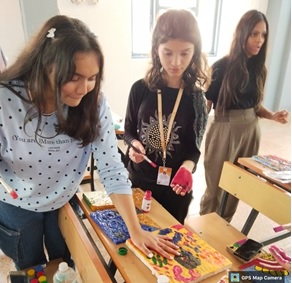 Warli Art
Indian folk art has a body of art from that originated in India. Indian Art work has gone several changes. Some have adapted to the new techniques, mediums and materials, while others remain untouched by the external factor. The themes and motifs in these art forms have undergone tremendous changes and have adapted to contemporary ideas, issues and thoughts.
Warli Art is form of tribal art mainly makes use of geometric shapes such as circles, triangles and squares to form numerous shapes depicting life and beliefs of the Warli tribe. Student created a contemporary art work by using different medium and thoughts but similar form of motif. The students then created their interpretations of this art form by using mediums of their choice like water colors, poster colors, ink, acrylic colors on paper and canvas.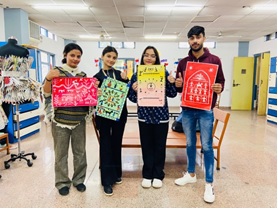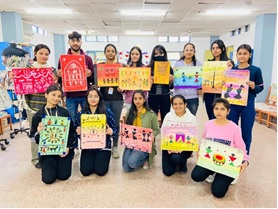 Distorted Beauty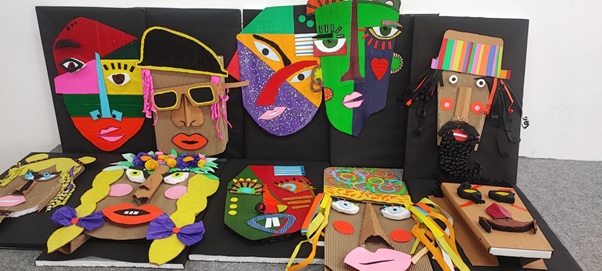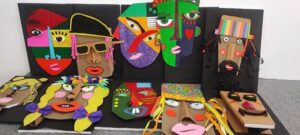 It is a form of disguise, form of concealment, Form of expression, and a method of avoiding identification.  Distorted beauty defines states of beauty is not in physical attributes, but in the emotions tied to them. Society disorts this definition so that students today are left with a twisted idea of what beauty is or what makes them beautiful.  Attract the audience towards to know about the something what happening which lead to stand different from others. . Students created their impression by using cardboards, colors, and craft papers.
Hand Painted Clay Utensils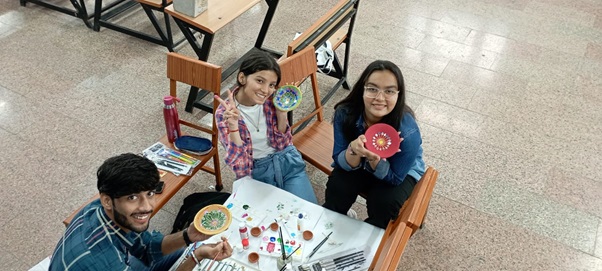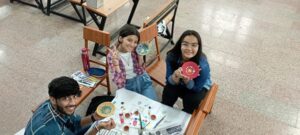 Decorated pottery is believed to have become significant in the Shunga, Kushan and Gupta periods. The phase of glazed pottery started in the 12th century AD, when Turkic Muslim rulers encouraged potters from Persia, Central Asia and elsewhere to settle in present-day Northern India. Different regions have their own techniques, designs, colours, textures, styles and finishes. Clay pots were used not only for cooking & storing purposes but also were one of the earliest forms of artistic and emotional expression. The students created their decorative utensils by using medium of th­eir choice like acrylic colors, clay pots, and mirror.
From
School of Design
April 13, 2023