Friends Indeed Foundation (FIF) is a Sec 8 registered progressive NGO managed by professionals passionate about socially impactful projects.
FIF is actively working on Skilled workforce project in Paramedical and Allied Healthcare professionals (AHP's) & for this have entered into a MoU with Lingaya's Vidyapeeth (a Deemed to be university u/s 3 of UGC Act 1956) to offer Job ready Paramedical B.Sc. Degree.
Healthcare with 22.52% CAGR (2016-22) has become one of the largest sectors of Indian economy in terms of both Revenue & Employment. Most emerging category in the healthcare ecosystem is AHP's.
Allied Healthcare professionals (AHP's) are technicians or technologists trained to perform any technical and practical task in supporting the diagnosis and treatment of illness, injury or impairment and support implementation of any health care as per the medical recommendation, nursing or any other health care professionals.
The demand for AHP's is 6x the current supply which is being fulfilled by untrained staff.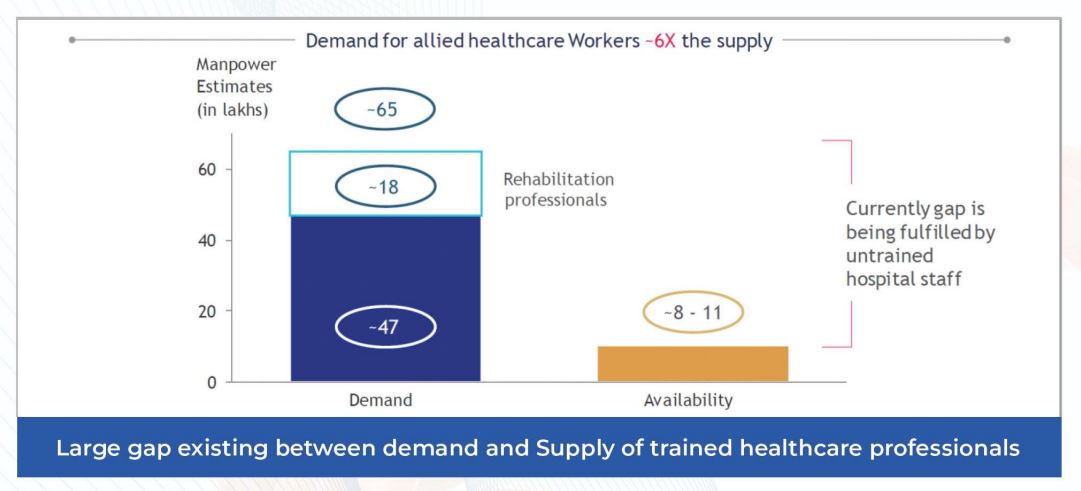 National Commission for Allied and healthcare professions (NCAHP) Act, 2021 received the accent of the president on 28th March 2021 with an aim to establish a central statutory body for the sector with an objective to regulate & maintain educational and service standards for AHP's.
With the growing demand & newly set up National commission, Industry is moving towards certified & skilled AHP's.
FIF as an industry partner to Lingaya's Vidyapeeth has identified and partnered with Raj MRI center Sector 3, Faridabad, to open up a Student Engagement Center. We plan to start a unique B. Sc. Course in Radiology & Medical imaging Technology (RMIT) & Medical Laboratory Technology, which will be 70% practical oriented giving a chance to enrolled student to be at work place from day – 1 along with enjoying student life at university campus. Special attention will be given on the overall personality development of the students specially enhancing their skills in communication, presentation, digital literacy etc.
This 3 year Degree program is so planned that student should be able to get handsome stipend by 3rd year of his program and shall immediately be absorbed in the industry due to recognized degree, req. skillset and strong need of such manpower. Females are equally required in this sector. This Program will give 100% internship opportunity to all students with 100% Job support also. The course fees has been kept very reasonable considering social impact this initiative will make.